My Blog
Posts for: February, 2016
By Southlake Family and Cosmetic Dentistry
February 15, 2016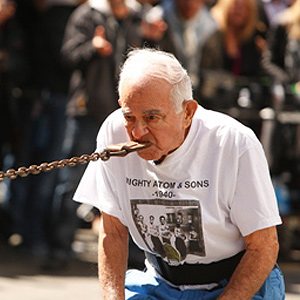 A recent episode of "America's Got Talent" featured an engaging 93-year-old strongman called The Mighty Atom Jr. The mature muscleman's stunt: moving a full-sized car (laden with his octogenarian "kid brother," his brother's wife, plus Atom's "lady friend") using just his teeth. Grinning for host Howie Mandel, Atom proudly told the TV audience that his teeth were all his own; then he grasped a leather strap in his mouth, and successfully pulled the car from a standstill.
We're pleased to see that the Atom has kept his natural teeth in good shape: He must have found time for brushing and flossing in between stunts. Needless to say, his "talent" isn't one we'd recommend trying at home. But aside from pulling vehicles, teeth can also be chipped or fractured by more mundane (yet still risky) activities — playing sports, nibbling on pencils, or biting too hard on ice. What can you do if that happens to your teeth?
Fortunately, we have a number of ways to repair cracked or chipped teeth. One of the easiest and fastest is cosmetic bonding with tooth-colored resins. Bonding can be used to fill in small chips, cracks and discolorations in the teeth. The bonding material is a high-tech mixture of plastic and glass components that's extremely lifelike, and can last for several years. Plus, it's a procedure that can be done right in the office, with minimal preparation or discomfort. However, it may not be suitable for larger chips, and it isn't the longest-lasting type of restoration.
When more of the tooth structure is missing, a crown (or cap) might be needed to restore the tooth's appearance and function. This involves creating a replacement for the entire visible part of the tooth in a dental lab — or in some cases, right in the office. It typically involves making a model of the damaged tooth and its neighbors, then fabricating a replica, which will fit perfectly into the bite. Finally, the replacement crown is permanently cemented to the damaged tooth. A crown replacement can last for many years if the tooth's roots are in good shape. But what if the roots have been dislodged?
In some cases it's possible to re-implant a tooth that has been knocked out — especially if it has been carefully preserved, and receives immediate professional attention. But if a tooth can't be saved (due to a deeply fractured root, for example) a dental implant offers today's best option for tooth replacement. This procedure has a success rate of over 95 percent, and gives you a natural looking replacement tooth that can last for the rest of your life.
So what have we learned? If you take care of your teeth, like strongman Atom, they can last a long time — but if you need to move your car, go get the keys.
If you would like more information about tooth restoration, please contact us or schedule an appointment for a consultation. You can learn more by reading the Dear Doctor magazine article "Crowns & Bridgework."
By Southlake Family and Cosmetic Dentistry
February 07, 2016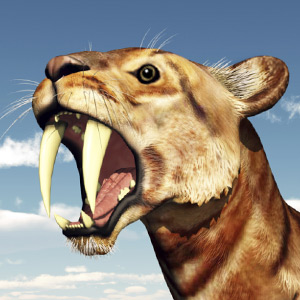 What do young saber tooth tigers, which have been extinct about 10,000 years, have in common with human kids today? At first glance, not a lot. Smilodon fatalis, the big cat of North America, reached adulthood at around age three and weighed up to 600 pounds. But these ice-age mammals are probably best known for their dagger-like canine teeth, which (as shown by many well-preserved skeletons) grew up to 7 inches long. And that's where the comparison between kids and kitties gets interesting.
The toothy felines had primary (baby) teeth and adult teeth, which developed in a similar way to human dentition. The primary teeth came in first, persisted during the young cat's development, and shared space in the mouth as the adult teeth were erupting (growing in) — with one big difference. According to a recent study reported in the academic journal PLOS ONE, those colossal canines grew at an astonishing rate: up to 6 millimeters per month! By comparison, human primary teeth emerge from the gums at around 0.7mm per month, while permanent teeth may grow up to 2mm per month.
It's understandable why those tiger teeth developed so rapidly: Life in the Ice Age was hard, and predators needed every advantage just to stay alive. But while human baby teeth take longer to develop (and to go away), they, too, are vitally important. For one thing, the primary teeth let kids bite, chew, speak (and smile) properly, until they are replaced by adult teeth — a process that isn't usually finished until a child reaches the age of 12-13. So those "baby" teeth allow kids to have good nutrition — and positive social interactions — for a significant part of childhood!
There's another important thing primary teeth do before they're gone: They help ensure that the succeeding teeth come in properly, by holding a space in the jaw that will later be filled by a permanent tooth. If baby teeth are lost prematurely, those spaces can close up, resulting in permanent teeth that emerge too close together, or in the wrong places. This condition, called malocclusion (bad bite), can usually be corrected by orthodontics. But it's better to avoid the inconvenience (and cost) of braces, if possible.
That's why it's so important to take care of your child's baby teeth. Even though they won't be around forever, they have a vital role to play right now. So be sure proper attention is paid to your child's oral hygiene: That means avoiding sugar, and remembering to brush and floss every day. And be sure to come in regularly for routine exams, cleanings, and needed care. It's the best way to keep those little teeth from "going extinct" too soon!
If you have questions or concerns about your child's baby teeth, please call our office to schedule a consultation. You can read more in the Dear Doctor magazine articles "Importance of Baby Teeth" and "Early Loss of Baby Teeth."