My Blog
Posts for: March, 2018
By Southlake Family and Cosmetic Dentistry
March 17, 2018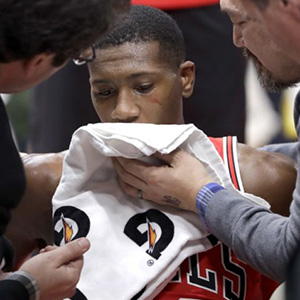 For lots of sports fans, March is the month to get caught up in basketball "madness." But many people forget that basketball—whether it's played on a school court or a big-city arena—can be just as dangerous for your teeth as some "full-contact" sports. Just ask Chicago Bulls point guard Kris Dunn. In the last three minutes of the January 17 NBA game between the Bulls and the Golden State Warriors, Dunn stole the ball and went in for the dunk. But the momentum from his fast break left him tumbling head-over-heels, and his face hit the floor.
The game stopped as Dunn was evaluated by medical staff; they found he had dislocated his two front teeth. The next day, the Bulls announced that his teeth had been stabilized and splinted—but Dunn would be out indefinitely because of a concussion.
Teeth that are loosened or displaced are known in dental terminology as luxated. These are fairly common dental injuries in both children and adults—but surprisingly, they don't always produce painful symptoms. Treating luxated teeth generally involves repositioning them and then splinting them in place for stability. Depending on the severity of the injury, the outlook for splinted teeth can be quite favorable. However, it may involve several treatments over a period of time—for example, a root canal if the tooth's inner pulp has been damaged, and possibly additional restorative or cosmetic work.
If the injured teeth can't be saved, they can usually be replaced by dental implants or a bridge. Bridges rely on adjacent teeth (also called abutment teeth) for their support. These teeth must be prepared (reduced in size) to accommodate the dental crowns that will hold the bridge in place, as well as the ones that will replace the missing tooth or teeth. Dental implants, today's gold standard of tooth replacement, are supported by root-like inserts made of titanium that are set directly into the jawbone. These dental implants support lifelike crowns that look and feel like natural teeth, and can last for years with routine care.
Better still, many dental injuries can be prevented by wearing a protective mouthguard. We can provide a custom-fabricated mouthguard, made from an exact model of your bite, which offers the maximum in comfort and protection. This is a vital piece of safety equipment that should be part of every sports enthusiast's gear.
With good dental care, it's a sure bet that Kris Dunn will be smiling when he returns to the court. We wish him a speedy recovery.
If you have questions about treating injured teeth or obtaining a custom mouthguard, please contact our office or schedule a consultation. You can read more in the Dear Doctor magazine articles "Trauma and Nerve Damage to Teeth" and "Athletic Mouthguards."
By Southlake Family and Cosmetic Dentistry
March 02, 2018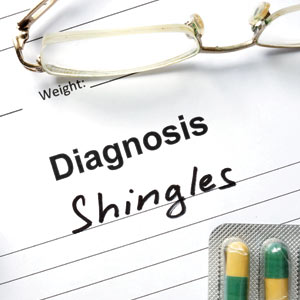 It may begin as an itching or burning feeling on your skin, followed by numbness or sensitivity to touch. But then you develop a painful red rash that forms crusty lesions. Fever and fatigue may follow.
These are the common symptoms for a form of chicken pox called shingles, a contagious disease from the human herpes group of viruses. While anyone can contract the shingles virus, it most often lies dormant in a person's nervous system for decades after an earlier bout of chicken pox. It then breaks out (sometimes repeatedly), usually in patients over fifty.
A shingles outbreak can be miserable. It could also affect your dental care, especially if you have a rash on your face and neck. Here are 3 things you should do if you have shingles in regard to your dental care and overall health.
Tell your dentist you have shingles. A shingles outbreak is highly contagious in its early stages and can spread from direct contact with blisters or through airborne secretions from the infected person's respiratory system. Even a simple teeth cleaning (especially with an ultrasonic device) at this stage could spread the virus to staff and other patients. So inform your dentist if your appointment coincides with an outbreak—it may be necessary to re-schedule your visit.
Start antiviral treatment as soon as possible. If you're diagnosed with shingles, more than likely your doctor or dentist will recommend immediate antiviral treatment (typically acyclovir or famciclovir) within 3 days of symptom onset. This can help speed up healing, alleviate pain and possibly prevent more serious complications.
Get the shingles vaccine. Of course, you don't have to wait for shingles to occur—there is an effective vaccine that could help prevent an outbreak. If you've had chicken pox (over 90% of American adults have) or you're over sixty with or without previous chicken pox, the U.S. Centers for Disease Control recommends you get vaccinated.
If you would like more information on shingles and how it may affect your dental health, please contact us or schedule an appointment for a consultation.