My Blog
Posts for: January, 2021
By Southlake Family and Cosmetic Dentistry
January 13, 2021

If you're intrigued by the strange and bizarre, here's one to pique your interest: geographic tongue. It's a rare condition that causes the appearance of red patches on the tongue surface, surrounded by grayish-white borders, and which look a lot like continents on a map (hence the name). But although it may look odd, geographic tongue won't harm your health.
The condition is also known as benign migratory glossitis, so named because it's not cancerous and the patches seem to move or "migrate" around the tongue surface. The most common causes are thought to be stress or hormonal disruptions in those predisposed to the condition. Many researchers believe zinc or vitamin B deficiencies in the body contribute to its occurrence. It also seems more prevalent among non-smokers and pregnant women, as well as occurring as a family trait.
The red patches are created by the temporary disappearance of some of the papillae, tiny bumps on the tongue's top surface. The patches can abruptly appear during a flareup and then disappear just as suddenly. But as "angry" as the patches may look, geographic tongue is not considered a health danger. It isn't normally painful, although people can experience stinging or numbing sensations emanating from the patches that can be mildly uncomfortable.
Because it's also rare, you're not likely to encounter it personally. But if you or a loved one does begin to notice red patches on the tongue, there are a few things you can do to lessen any accompanying irritation. For one, cut out foods like tomatoes, citrus fruits, eggplant, mint or highly spicy or acidic foods, all of which have been known to increase discomfort. You might also avoid astringents like alcohol or mouthwashes that likewise irritate the patches when they occur.
Although geographic tongue can't be cured, your dentist can help you manage symptoms when they arise with the help of prescribed anesthetic mouthwashes, antihistamines or steroid lozenges. These not only can help lower any discomfort or irritations, they may also lessen the duration of a flareup.
For the most part, geographic tongue usually causes more embarrassment than physical discomfort. But with a little help from your dentist, you can keep it to a minimum. Geographic tongue may be odd, but it's nothing to worry about.
If you would like more information on geographic tongue, please contact us or schedule an appointment for a consultation. You can also learn more about this topic by reading the Dear Doctor magazine article "Geographic Tongue: No Cause For Alarm."
By Southlake Family and Cosmetic Dentistry
January 03, 2021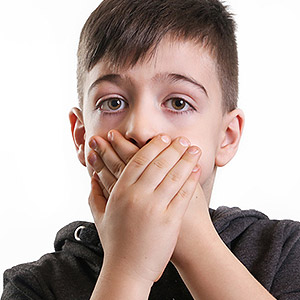 Knowing what to do—and what not to do—when your child is sick can greatly affect their health and well-being. That's especially true with dental problems.
Here then are some Dos and Don'ts for 3 common problems children experience with their teeth and gums.
Teething. An infant's first teeth breaking through the gums is a normal but often unpleasant experience. Fortunately, teething episodes only last a few days. And, there's usually no need to see the dentist unless they have a fever or diarrhea while teething. In the meantime:
Do: provide them chilled (not frozen) cloth or plastic items to bite and gnaw, and massage their gums to relieve painful pressure. You can also give them an age-appropriate dose of a mild pain reliever.
Don't: rub any medication on their gums, which can irritate them and other soft tissues. Never use alcohol or aspirin to alleviate teething discomfort. And avoid using anything with benzocaine, a numbing agent which can be hazardous to young children.
Toothache. Whether a momentary sensitivity to hot or cold or a sharp, throbbing pain, a child's toothache often signals tooth decay, a bacterial disease which could eventually lead to tooth loss.
Do: make a dental appointment at your child's first complaint of a toothache. Ease the pain with a warm-water rinse, a cold compress to the outside of the jaw, or a mild pain reliever.
Don't: rub medication on the teeth or gums (for similar reasons as with teething). Don't apply ice or heat directly to the affected tooth or gums, which can burn them.
Bleeding gums. Gum bleeding from normal brushing or flossing, along with red or swollen gums, may indicate periodontal (gum) disease. Although rare in children, it can still happen—and it can put an affected tooth in danger.
Do: see your dentist if bleeding continues for a few days. Continue to brush gently with a soft-bristled toothbrush around the gums to remove plaque, a thin-biofilm most responsible for gum infection.
Don't: brush aggressively or more than twice a day, which could unnecessarily irritate and damage the gums. And don't stop brushing—it's important to remove plaque buildup daily to lessen the gum infection.
If you would like more information on dental care for children, please contact us or schedule an appointment for a consultation.