My Blog
Posts for tag: tooth decay
By Southlake Family and Cosmetic Dentistry
May 14, 2019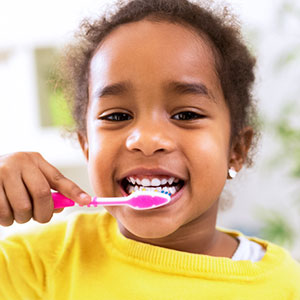 While dental diseases tend to be a greater concern as we get older, they also pose a potential threat to children. A particular type of tooth decay called early childhood caries (ECC) can severely damage children's unprotected teeth and skew their normal dental development.
Fortunately, you can protect your child's teeth from disease with a few simple practices. First and foremost: start a hygiene habit as soon as possible to remove disease-causing bacterial plaque. You don't have to wait until teeth appear, either: simply wipe the baby's gums with a clean wet cloth after nursing to minimize the growth of oral bacteria.
When their teeth do begin to erupt, you can switch to brushing (you can add flossing as more teeth erupt—but until the child shows appropriate dexterity, you'll need to do it for them). For infants, brush gently but thoroughly with a soft-bristled brush and a smear of fluoride toothpaste. When they grow older you can increase the toothpaste to a pea-sized amount. And as soon as you can, get them involved with learning to perform these vital habits on their own.
You should also limit your child's consumption of sugar. Our favorite carbohydrate is also a favorite of bacteria, who consume any remnants in dental plaque as a primary food source. So, keep sugary snacks and foods to a minimum and limit them mainly to mealtimes. And don't put a baby to sleep with a bottle filled with a liquid containing sugar (including formula and breastmilk).
Finally, begin taking your child to the dentist regularly by their first birthday for routine cleanings and checkups. Besides removing any hard to reach plaque, your dentist may also apply sealants and topical fluoride to help protect and strengthen tooth enamel. Regular visits make it more likely to detect the early signs of decay, before it does extensive damage. And beginning early makes it less likely your child will develop a fear of dental visits that could carry on into adulthood.
These and other steps will go a long way in protecting your child's teeth and gums so they develop normally. A little prevention and protection will help ensure a happy, healthy smile later in life.
If you would like more information on helping your child develop healthy teeth and gums, please contact us or schedule an appointment for a consultation. You can also learn more about this topic by reading the Dear Doctor magazine article "Top 10 Oral Health Tips for Children."
By Southlake Family and Cosmetic Dentistry
December 05, 2018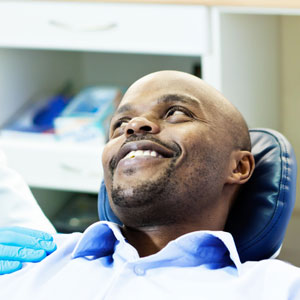 Tooth decay is as relentless as it is destructive, and it makes little distinction between age, gender, ethnicity or social status. Although risk levels vary from person to person, we're all potentially in the crossfire for this harmful disease. Getting ahead of it early could save your teeth.
Tooth decay begins with oral bacteria. While feeding on dental plaque that accumulates on the teeth, bacteria multiply and produce acid as a by-product. Too much acid softens and erodes tooth enamel, which enables decay to advance deeper into the tooth.
If it isn't stopped, decay can eventually infect and weaken the roots and bone, and ultimately lead to a lost tooth. By stopping it as early as possible before it reaches the inner pulp and root canals, we can greatly limit the damage.
Regular dental care is crucial for early detection. Here's how we can stay ahead of developing decay during dental visits.
Visible inspection. There are visible signs a trained dentist may notice that point to tooth decay. Besides an already formed hole or cavity, we might also pick up on other unusual appearances like white spot lesions: these slight blemishes often occur in the areas of contact with other teeth, which we can treat with topical fluoride.
X-rays. This tried and true diagnostic tool has been a mainstay of dental care for nearly a century. The images they produce can indicate decay as darker spots or areas on or within the tooth that may not yet be visible to the eye. And with advances in digital processing and more streamlined equipment, we can effectively do this with a very low dosage of radiation exposure.
Advanced technology. We've developed other means for better disease detection that complement x-rays and visual inspections. Specialized microscopes and lasers are now important tools for analyzing suspected areas of early decay.
Even if decay gets a foothold we can effectively stop it and restore a tooth with a root canal treatment or a similar procedure. The best outcome, though, is to not allow this destructive disease to get that far. With dedicated oral hygiene and regular dental visits that uncover early decay, chances are good your teeth can remain healthy for a lifetime.
If you would like more information on fighting tooth decay, please contact us or schedule an appointment for a consultation. You can also learn more about this topic by reading the Dear Doctor magazine article "Tooth Decay: How to Assess Your Risk."
By Southlake Family and Cosmetic Dentistry
December 07, 2015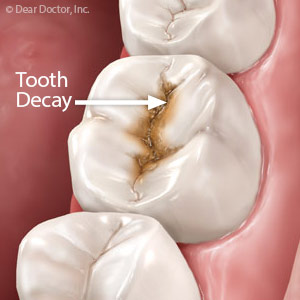 Tooth decay doesn't suddenly appear out of the blue. Cavities and other damage are the result of a long process that begins with bacteria living in a thin biofilm on tooth surfaces known as plaque. These bacteria thrive on sugars from leftover food in your mouth and then produce acid as a waste product. Chronic high levels of acid cause your enamel, the protective layer of your teeth, to soften and erode.
While there are treatment options at each stage of decay — including crowning or even tooth replacement — the best approach is to try to prevent plaque buildup that supports disease-causing bacteria. Here are 3 of the best ways you can do that.
Brush and floss daily. It usually takes 12-24 hours for enough plaque buildup to support bacteria. By brushing and flossing at least once a day, you can remove most of this buildup, with twice a year dental cleanings to remove hard to reach plaque you may have missed. Be sure to use fluoride toothpaste to help strengthen enamel against high acid. And wait a half hour to an hour after eating before brushing to give saliva time to reduce the acid level in your mouth.
Cut back on sweets. You're not the only one who loves sugary snack foods — so do oral bacteria. The more sugar and other carbohydrates they feast on, the more they produce acid. The best approach is to cut out sugar-rich snacks altogether and instead snack on fresh fruits, raw vegetables or dairy products. Limit sweet treats to meal times.
Use decay-fighting supplements. Your mouth and hygiene efforts may need a little assistance, especially if you have low saliva flow. You can boost this with an artificial saliva supplement as well as with products containing xylitol, an alcohol-based sugar. Xylitol also has an added benefit in the fight against decay because it inhibits bacterial growth. And be sure to talk with us first before taking any dental supplement.
If you would like more information on dental hygiene and care, please contact us or schedule an appointment for a consultation. You can also learn more about this topic by reading the Dear Doctor magazine article "Cost-Saving Treatment Alternatives."